Bruckner Symphony No. 8 - Berlin Philharmonic Orchestra - Herbert von
Customer Reviews
Write a Review
Ask a Question
11/25/2021
Samuel W.

United States
Karajan's Mastery of Bruckner in a Different Light
As usual, Karajan is unsurpassed in capturing the majesty of the score. Here the atmosphere is more subdued than in his subsequent recordings, with much of the Olympian control marking the 1975 remake but notably warmer phrasing and a more natural acoustic. The greatest liability here, I think, is the mid-range-heavy EMI sound, reproduced here, at least, with satisfying clarity. (I haven't heard the various official alternatives on CD.) There is room for more dynamic interpretations, and I would not want this as my sole recording, but I wouldn't want to be without it, either. Five stars for the unforced eloquence and grand sweep, culminating in a thoroughly moving final coda.
07/28/2021
Anonymous

United States
Karajan's third-best Bruckner 8 now sounds slightly better.
The title of the review should let you know if you need this. At first, I was quite impressed with the added depth and presence of this HDTT version, but then, alas, the finale has the same oddly muffled brass sound it always had. If you're a Karajan-in-Bruckner fan, however, this might be worth it for the first three movements.
05/10/2021
Gil S.

Australia
Not worth the trouble
I have in my library, 14 recordings of this magnificent edifice, so you won't be surprised that it's one of my musical holy grails. It's sprawling yet miraculously taut structure provides one of the truly universal challenges for a conductor. However, its sheer length can easily spiral out of focus, where the ultimate climax ends up sounding incongruous and disproportionate, like just another climax tacked on to all the others. Keeping hold for some 80 minutes to that logical yet inevitable journey to the summit, requires prodigious artistic planning, sweeping vision, and such structural acumen on the part of the conductor! In my impressionable youth, I imprudently allowed myself to buy into all that superman, God-like hype surrounding von Karajan. Predictably, I spent up big, and still have dozens of his records lying around my house. However, somewhere in my late 20s, I began to tire of his ultra-smooth and seamless interpretations that robbed the music of all its character and interest, all replaced by his chromium steel, super-polished interpretations, with no spikes of interest, and wholly extinguished musical fires! Of this recording of the Bruckner 8th, I was somewhat reluctant to buy this download, but decided to give ol' Herbie one last chance to redeem himself - in my eyes at least. Sadly, rather than 'redeeming', he 'cemented' my long held views, and for me, this reading is flat and impotent, where von Karajan never once ignites this towering masterpiece. If you are looking for a genuinely great Bruckner 8th, try the Knappertsbusch on this site. It's leagues above this, and indeed, Knappertsbusch is arguably the greatest interpreter of Bruckner (and Wagner!) there is. For me, worth neither the trouble nor the expense. Gil Sullivan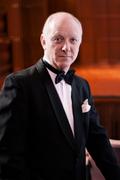 Bruckner Symphony No. 8 - Berlin Philharmonic Orchestra - Herbert von Karajan
HDTT11755
Description:
Artist(s): Conductor - Herbert von Karajan
Orchestra – Berliner Philharmoniker
Recording Info: Recorded by EMI May 1957
Engineer – Horst Lindner
Producer – Fritz Ganss

I: Allegro Moderato 17:00
II: Scherzo: Allegro Moderato - Trio: Langsam 16:02
III: Adagio. Feierlich Langsam, Doch Nicht Schleppend 27:35
IV: Finale. Feierlich, Nicht Schnell 26:17
Play Sample Tracks