Brahms Symphony No. 1 - Kempe conducts the Berliner Philharmonic Orche
Customer Reviews
Write a Review
Ask a Question
11/19/2020
Anonymous

United States
Kempe's Brahms First
Kempe's Brahms recordings are less well known than they should be. This is a well played, exciting performance that I've enjoyed rather more than some more famous versions. The sound, as ever from this source, is excellent.
10/01/2020
BXL L.

United States
Brahms Symphony No. 1 - Kempe conducts the Berliner Philharmonic Orchestra
another great recording of such a classically great, romantic symphony.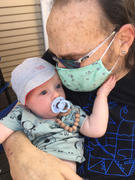 Brahms Symphony No. 1 - Kempe conducts the Berliner Philharmonic Orchestra
HDTT11007
Description:
Title: Brahms Symphony No. 1 In C Minor, Op. 68
Artist(s):  Berliner Philharmonic Orchestra conducted by Rudolf Kempe
Recording Info: Recorded by HMV 1959
Transferred from a 15ips tape
1 Un Poco Sostenuto; Allegro 14:23
2 Andante Sostenuto 9:19
3 Un Poco Allegretto E Grazioso 5:03
4 Adagio; Allegro Non Troppo 16:49
Play Sample Tracks