SYMPOSIUM® ROLLERBLOCK® Series 2+
Customer Reviews
Write a Review
Ask a Question
09/17/2020
Joe

Canada
Used under anything with a motor
I have a variety of Symposium products from Fat pads to the Ultra platforms for my main sources. My dealer told me to try the Roller blocks with the upgraded carbon balls and I resisted for years! Finally one day I brought home one set and I'll I can tell you I ending up buying four sets! The improvement to my mid system turntable (double stacked) and transport were quite something. I also use this roller block combo under my Wadia CD player in my main system that sits on an Ultra platform. Sound stage improvements, detail and musical nuances come through in spades. A must try!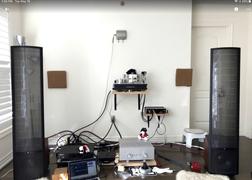 SYMPOSIUM® ROLLERBLOCK® Series 2+
Description:
Free Standard Shipping within the United States
International Shipping please contact us
For priority shipping please contact us.
Symposium's famous Rollerblock Series 2+ is an equipment support system which provides simultaneous coupling AND decoupling of audio and video equipment. When properly installed, Rollerblock Series 2+ will increase system performance by an order of magnitude similar to a wholesale upgrade of the component it supports. A "must have" footer device for digital transports, power conditioners, integrated amplifiers, and more. BEWARE OF COUNTERFEITS OFFERED ELSEWHERE THAT WILL NOT PERFORM TO THE SAME LEVEL! Series 2+ Rollerblocks are a patented product, scrupulously manufactured to extremely high standards in the USA.
Utilizing technology employed in earthquake protection and combining it with proprietary mechanical transmission techniques, Rollerblocks are the most sonically beneficial coupling devices available. Used beneath digital equipment, DVD players, preamplifiers and other components, results can be nothing less than astonishing. Increased focus, soundstaging, image stability, dynamics and delicacy are just a few of the sonic delights awaiting the serious audiophile. When used with an effective equipment base (such as Symposium Platforms), the Series 2+ Rollerblock system provides an additional step toward ideal equipment support, which is simultaneous component isolation and drainage of chassis-borne vibration.
Symposium Rollerblock Series 2+ systems achieve their seemingly "magical" results by obeying laws of physics. Their strict manufacturing tolerances (much higher than usually found in an audiophile "tweak" device) are responsible for their world-wide reputation as the best ball-bearing isolation device available. Professional reviewers and private owners alike have spoken emphatically about the ability of Rollerblocks to enhance and improve the performance of virtually any component, including CD players, DVD players, digital transports, preamplifiers, amplifiers, and more.
Go beyond the merely extraordinary performance of the Series 2+ by upgrading to the state of the art Grade 3 Superball - the most perfect tungsten carbide ball that can be made by present technology. Enhancements to performance include greater resolution, definition, sonic coherence and extreme low frequency preservation.

DOUBLE STACK configuration: The ultimate Rollerblock Series 2 configuration is the Double Stack, using two sets of Series 2 bodies, one above and one below the central bearing, and providing ultimate transient response, definition and mechanical stability. Upgrade the Series 2+ to a Double Stack configuration with the Double Stack Kit.