FREE SHIPPING in the USA 
Contact us for International Shipping Charges
The Sonore opticalRendu project is an extension of the microRendu and ultraRendu projects that came before it. The design is inspired by audiophile gear and meant to bring grace and simplicity to a microcomputer. The original microRendu was very small and intended to be hidden out of sight behind your other gear. The opticalRendu can be powered by your favorite power supply. The opticalRendu has optical Ethernet input and USB-Audio output with all the connectors located on the rear of the unit for easy cable routing. The opticalRendu utilizes a new proprietary printed circuit board with only the essential components and many updates to match its optical designation. The best way to connect the opticalRendu to a USB device is via your favorite USB cable. The opticalRendu is easy to configure, accepts streams from various sources, and includes our latest version of our operating system Sonicorbiter.
SELECTABLE OUTPUT MODE
Mode #1 - RoonReady Output - This output utilizes streams from Roon. This output supports true gapless playback of PCM, DSD/DoP, and native DSD.
SOFTWARE FEATURES
Supports the following PCM sample rates up to: 44.1kHz, 48kHz, 88.2kHz, 96kHz, 176.4kHz, 192kHz, 352.8kHz, 384kHz, 705.6kHz, and 768kHz
Supports the following DSD sample rates up to: DSD64, DSD128, DSD256, DSD512
POP free DSD/PCM transitions
Not all USB devices or output modes support the maximum sample rate of the unit
RoonReady certified
Supports Tidal and Qobuz lossless streaming via Roon server
Native DSD is supported on select DACs
The unit is controlled via Roon on your mobile device and on your computer
Based on Sonicorbiter, closed source and open source

 

(GPLv2)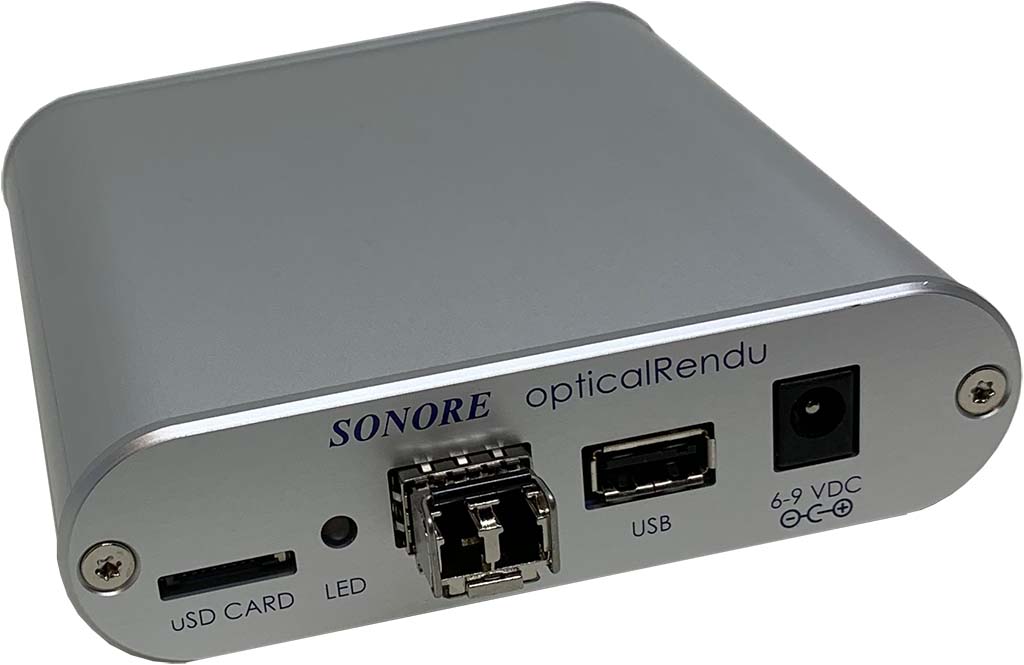 standard rear faceplate
HARDWARE FEATURES
Eleven (11) high-quality ultra low noise linear regulators
Two (2) fixed frequency high-quality ultra low jitter FEMTO oscillators
External power input jack
SFP cage / SFP optical transceiver for network connection
USB-A audio output connector
Micro SD port for the operating system
Multicore processor with DDR3 RAM
Voltage input: 6-9 VDC, 9 VDC not recommended
Current input: 2A peak current and 1.5A continuous current
Operating Conditions: up to 73 F/22.8 C
Power connector: 2.1mm x 5.5mm (center +)
Dimension without rubber feet: 1.181"(H)x4.331"(W)x4.409"(D)
systemOptique Certified
PURCHASE
Includes: opticalRendu, SFP Fiber Transceiver, Rubber Feet (4), 60 Day Roon Trial, Warranty Information, Product Set-Up Instructions


What is systemOptique?
SystemOptique is a fiber optic Ethernet interconnection scheme that utilizes a new series of Sonore products with optical transceiver capabilities. Please note that this system was also designed to work seamlessly with the original Rendu series.